NEW STAGES OF DEVELOPMENT OF MODERN SCIENCE IN UKRAINE AND EU COUNTRIES: Collective monograph
The monograph describes the theoretical and practical aspects of the development of pedagogical science in Ukraine and the EU countries. There are distinguished the general issues on the history of pedagogy, teaching theories and methods, special pedagogy, theories and methods of vocational education and education management, information and communication technologies in education, etc. The publication is intended for scientists, lecturers, postgraduates and students of pedagogical specialities, as well as a wide range of readers, who are interested in pedagogy.
New stages of development of modern science in Ukraine and EU countries: monograph / edited by authors. – 1st ed. – Riga, Latvia : "Baltija Publishing", 2019. – 472 p.
Chapters
PRESENT-DAY APPROACHES TO THE COMPETITIVE TRANSLATORS' PROFESSIONAL TRAINING IN UKRAINE

NEWEST DETERMINANTS OF PRACTICE-ORIENTED TRAINING OF TOURISM SPECIALISTS IN A POLICULTURAL EDUCATION ENVIRONMENT

THE RESEARCH OF THE FORMATION OF MOTOR SENSATIONS AND PERCEPTIONS IN CHILDREN OF THE THIRD YEAR OF LIFE IN A PRE-SCHOOL SETTING UP

FORMATION OF PROFESSIONAL COMPETENCES OF FUTURE MARITIME PROFESSIONALS IN THE CONDITIONS OF INFORMATION AND TECHNOLOGICAL ENVIRONMENT

ТHE TECHNOLOGY OF THE FORMATION OF THE FUTURE TEACHERS' READINESS TO THE PREVENTION OF THE PROFESSIONAL SYNDROMES AND ILLNESSES

FEATURES OF STUDENT YOUTH'S ACHIEVING IN CATEGORIES OF SPACE AND TIME AS VALUES OF BEING

IMPLEMENTATION OF INNOVATIVE TECHNOLOGIES AT THE LANGUAGE LEARNING AT THE NEW UKRAINIAN SCHOOL

IMPROVEMENT OF PRACTICAL TRAINING OF EDUCATION MANAGERS AT UNIVERSITY BY MEANS OF MENTORING AND FACILITATION

THE MANAGEMENT DEVELOPMENT OF PEDAGOGICAL SKILLS OF TEACHERS-CLINICISTS OF THE HIGHER MEDICAL EDUCATION INSTITUTION

DEVELOPMENT OF PEDAGOGICAL MASTERY OF FUTURE VOCATIONAL TRAINING TEACHERS UNDER CONDITIONS OF EDUCATIONAL TRANSFORMATIONS

ORGANIZING EDUCATIONAL ACTIVITIES OF FUTURE LINGUISTS: THE INNOVATIVE EXPERIENCE OF THE UK

MODERN INFORMATION, COMMUNICATION, INTERACTIVE EDUCATIONAL TECHNOLOGIES IN THE SYSTEM OF HIGHER EDUCTION

THE IMPORTANCE OF DEVELOPING 21st CENTURY SKILLS FOR ADVANCED STUDENTS

IMPROVEMENT OF TECHNICAL TRAINING OF FUTURE HANDICRAFT TEACHERS

FORMATION OF MEDIA COMPETENCE AS MEANS OF INFLUENCE ON EMOTIONAL, COGNITIVE, AND VOLITIONAL DEVELOPMENT OF PERSONALITY

MOBILE RESOURCES AS A MEANS OF FORMING COMMUNICATIVE COMPETENCE OF FUTURE POLICE OFFICERS

ON THE FORMATION OF METHODOLOGICAL COMPETENCE OF STUDENTS OF PHILOLOGY

FORMATION OF PROFESSIONAL COMPETENCE OF FUTURE SPECIALISTS IN ENTREPRENEURSHIP, TRADE AND EXCHANGE ACTIVITIES IN THE CONTEXT OF THE MODERN EDUCATIONAL PARADIGM

A STUDENT-CENTERED EDUCATIONAL APPROACH SCIENTIFIC REASONING AND EMPIRICAL STUDY AT THE UKRAINIAN UNIVERSITIES

PERFECTION OF METHODS OF STUDIES OF THEORY OF RELATIVITY AND MODERN QUESTIONS OF PHYSICS IS ON BASIS OF DEVELOPMENT OF EMPIRIC THOUGHT ON EXAMPLE OF MEASURING OF THE GRAVITY FIELD

THE PROBLEM OF BILINGUALISM AND TRIGLOSSIA IN CURRENT CONDITIONS OF TEACHING ENGLISH LANGUAGE

DUAL FORM OF EDUCATION AS A PROSPECT OF DEVELOPMENT OF UNIVERSITY EDUCATION IN UKRAINE
Author Biographies
Nataliia Ababilova,
Petro Mohyla Black Sea National University, Ukraine
Candidate of Pedagogical Sciences, Lecturer at the Department of Theory and Practice of Translation from English
Nataliia Vasylyshyna,
National Aviation University, Ukraine
Ph.D. in Pedagogical Sciences, Associate Professor, Associate Professor at Foreign Language Department
Tetiiana Skyrda,
National Aviation University, Ukraine
Senior Teacher at Foreign Language Department
Ruslan Slobozhenko,
National Aviation University, Ukraine
Senior Teacher at Foreign Language Department
Svitlana Vasilieva,
Institute of Problems of Education of National Academy of Pedagogical Sciences of Ukraine, Ukraine
Candidate of Pedagogical Sciences, Senior Researcher in the Laboratory of Preschool Education and Upbringing of Ukraine
Serhii Voloshynov,
Kherson State Maritime Academy, Ukraine
PhD of Pedagogical Sciences, Associate Professor of the Department of Innovative Technologies and Technical Means of Navigation
Yuliia Hlinchuk,
Rivne State University of Humanities, Ukraine
Candidate of pedagogical sciences, Lecturer at Departament of General Technical Subjects, Technologies and Public Safety
Natalia Golota,
Borys Hrinchenko Kyiv University, Ukraine
Candidate of Pedagogical Sciences, Associate Professor, Associate Professor of the Department of Pedagogy and Psychology
Natalia Dyka,
Institute of In-Service Training, Borys Grinchenko Kyiv University, Ukraine
Ph.D. in Pedagogy, Associate Professor, Head at the Department of Language and Literature
Viktoria Mykytenko,
Institute of In-Service Training, Borys Grinchenko Kyiv University, Ukraine
Ph.D. in Pedagogy, Methodist at the Department of Language and Literature
Olena Shkirenko,
Institute of In-Service Training, Borys Grinchenko Kyiv University, Ukraine
Ph.D. in Psychology, Senior Lecturer at the Department of Language and Literature
Lenina Zadorozhna- Knyagnitska,
Mariupol State University, Ukraine
Doctor of Pedagogical Sciences, Associate Professor, Head of the Chair of Pedagogy and Education
Tatjana Zakusilova,
Zaporozhye state medical University, Ukraine
Candidate of Pedagogical Sciences, Lecturer of Department of the Health Care, Social Medicine and Medical Expertise
Vasyl Kovalchuk,
Oleksandr Dovzhenko Hlukhiv National Pedagogical University, Ukraine
Dr.hab. in Pedagogics, Professor, Head of the Department of Professional Education and Technologies of Agricultural Production
Inna Marynchenko,
Oleksandr Dovzhenko Hlukhiv National Pedagogical University, Ukraine
PhD in Pedagogy, Senior Lecturer of the Department of the Vocational Education and Computer Technologies
Lilіia Hrytsenko,
Oleksandr Dovzhenko Hlukhiv National Pedagogical University, Ukraine
Assistent of the Department of the Vocational Education and Computer Technologies
Olga Komochkova,
Khmelnytskyi National University, Ukraine
PhD in Pedagogy, Associate Professor of the Department of Foreign Language Practice and Teaching Methodology
Olena Dorofeyeva,
Khmelnytskyi National University, Ukraine
PhD in Philology, Associate Professor, Associate Professor of the Department of Foreign Language Practice and Teaching Methodology
Tetiana Kramarenko,
Dnipro State University of Agriculture and Economics, Ukraine
PhD in Pedagogics, Associate Professor
Olena Rezunova,
Dnipro State University of Agriculture and Economics, Ukraine
PhD in Pedagogics, Associate Professor
Liudmyla Lazorenko,
Taras Shevchenko National University of Kyiv, Ukraine
Ph.D in Pedagogical Sciences, Assistant Lecturer at the Department of Foreign Languages for Mathematical Faculties
Oksana Krasnenko,
Taras Shevchenko National University of Kyiv, Ukraine
Ph.D in Philological Sciences, Assistant Lecturer at the Department of Foreign Languages for mathematical Faculties
Nataliya Minko,
T.H. Shevchenko National University "Chernihiv Collegium", Ukraine
Candidate of Pedagogical Sciences, Senior Lecturer at the Department of General Technical Disciplines and Drawing, Deputy Dean of Technology Department
Lydmila Nazarenko,
Nikolaev Regional Institute of Postgraduate Education, Ukraine
Candidate of Pedagogical Sciences, Senior Lecturer of the Theory and Methods of Preschool and Primary Education
Svitlana Palamar,
Boris Grinchenko University of Kyiv, Ukraine
Candidate of Pedagogical Sciences, Senior Researcher, Deputy Director for Scientific Work at the Pedagogical Institute
Olga Oleksiuk,
Borys Grinchenko Kuiv University, Ukraine
Doctor of Pedagogical Sciences, Professor, Head of the Department of Musicology and Music Education
Alina Kudlay,
National Academy of Educational Sciences of Ukraine, Ukraine
Postgraduate Student of the Department of Higher Education and Science, Institute of Higher Education
Bronislava Rubinska,
National University of Life and Environmental Sciences of Ukraine, Ukraine
PhD in Pedagogy, Associate Professor
Svitlana Stebljuk,
Mukachevo Cooperative Trade and Economic College, Ukraine
Candidate of Pedagogical Sciences
Olena Stoliarenko,
Vinnytsia State Pedagogic University named after M. Kotsiubynskyi, Ukraine
Doctor of Pedagogic Sciences, Associate Professor at Department of Pedagogics and Professional Education
Oksana Stoliarenko,
Vinnytsia National Technical University, Ukraine
Candidate of Pedagogic Sciences, Associate Professor at Foreign Languages Department
Anna Tomashevska,
Central Ukrainian State Pedagogikal Universiti named after Volodymyr Vynnychenko, Ukraine
Graduate Student of Department of Physics and Method of its Teaching
Iryna Salnyk,
Central Ukrainian State Pedagogikal Universiti named after Volodymyr Vynnychenko, Ukraine
Doctor of Pedagogical Sciences, Associate Professor
Olena Tsvietaieva,
Oles Honchar Dnipro National University, Ukraine
Candidate of Social Communications, Associate Professor at the Department of Foreign Languages for Engineering and Natural Sciences
Tetiana Pryshchepa,
Oles Honchar Dnipro National University, Ukraine
Candidate of Philological Sciences, Associate Professor at the Department of Foreign Languages for Engineering and Natural Sciences
Olga Yakovchuk,
Donetsk National University of Economics and Trade named after Mikhail Tugan-Baranovsky, Ukraine
Candidate of Pedagogical Sciences, Senior Lecturer of Technologies in the Restaurant Industry and Hotel and Restaurant Business Department
Viktoriia Stoliarenko,
Kryvyi Rih State Pedagogical University, Ukraine
Candidate of Chemistry Sciences, Lecturer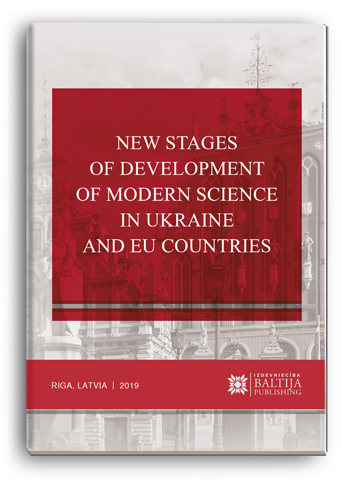 Published
November 29, 2019