NEW STAGES OF DEVELOPMENT OF MODERN SCIENCE IN UKRAINE AND EU COUNTRIES: Collective monograph
The monograph describes the theoretical and practical aspects of the development of science in Ukraine and the EU countries. There are distinguished the issues on the agricultural science, physical geography, geophysics, economic and social geography, geological sciences, applied social and communicational technologies, decorative and applied arts, etc. The publication is designed for scientists, lecturers, postgraduates, students, as well as a wide range of readers.
New stages of development of modern science in Ukraine and EU countries: monograph / edited by authors. – 7th ed. – Riga, Latvia : "Baltija Publishing", 2019. – 508 p.
Chapters
CHAPTER «AGRICULTURAL SCIENCES»

STRUCTURAL MEASURES IN THE AGRICULTURAL LANDS – CONDITION AND FACTOR FOR THE FUNCTIONING

INFLUENCE OF THE BASIC TO CULTIVATION OF THE SOIL, TERM AND A WAY OF SOWING ON ELEMENTS OF FERTILITY OF THE SOIL AND PRODUCTIVITY OF COLZA WINTER

FEEDING FEATURES OF KEFAL FISHES IN NATURAL AREAS

ANALYSIS ON APPLICATION OF CHLORELLA IN THE FEEDING OF FARM ANIMALS

ANTHROPOGENIC EVOLUTION OF MORPHOLOGICAL FEATURES OF CHERNOZEMS

EVALUATION OF SWITCHGRASS SOURCE MATERIAL PRODUCTIVITY FOR PLANT BREEDING

CLIMATE ASSESSMENT IN MODERN SUSTAINABLE CATTLE BARNS USING TEMPERATURE-HUMIDITY INDEX

WATER AVAILABILITY OF WINTER WHEAT CROPS AND THEIR PRODUCTIVITY IN THE NORTHERN STEPPE OF UKRAINE

MANAGEMENT OF THE ELEMENTS OF TECHNOLOGY OF GROWING OF SUNFLOWER IN THE RIGHT-BANK STEPPE OF UKRAINE

IMPROVEMENT OF THE SYSTEM OF REARING PEDIGREE AND REPAIR YOUNG PIGS IN THE CONDITIONS OF MODERN TECHNOLOGIES

FEEDING FEATURES OF MULLETS

THE CONTINGENCY OF AGROLANDSCAPES ACCORDING TO ECOLOGICAL-AGROCHEMICAL INDICES AND PERSPECTIVES OF SELECTING TRADITIONAL AGRICULTURAL CROPS IN EASTERN PODILLIA, UKRAINE

CHAPTER «GEOGRAPHICAL SCIENCES»

THE LANDSCAPE-LYMNOLOGICAL ANALYSIS OF THE KEY LAND «OSTRIVSKY LAKES» (NOBEL NATIONAL PARK, UKRAINE)

BASIC PRINCIPLES ON WHICH THE DEVELOPMENT OF EDUCATIONAL ENVIRONMENTAL WORKS IS BASED

ENVIRONMENTAL APPROACH TO ASSESSMENT OF THE RESPONSE OF HYDROECOSYSTEMS TO ANTHROPOGENIC LOAD

CHAPTER «GEOLOGICAL SCIENCES»

THE "WINGED FORELAND" ABRASION-ACCUMULATIVE SYSTEMS

CHARACTERISTIC PROPERTIS OF MORPHOLOGY AND FORMATION OF COMMERCIAL COAL SEAMS OF DEEP HORIZONS OF THE LVIV-VOLYN COAL BASIN

CHAPTER «SOCIAL COMMUNICATIONS»

ELECTRONIC RESOURCES OF UNIVERSITY LIBRARIES (CATALOG, LIBRARY, ARCHIVE REPOSITORY) AS A MEANS OF COMMUNICATION IN THE EDUCATIONAL AND SCIENTIFIC ENVIRONMENT

NORM AS A LINGUISTIC CONCEPT: DYNAMICS AND СODIFICATION

SOCIO-COMMUNICATIVE DIMENSION OF TELEVISION DEVELOPMENT

CHAPTER «HISTORY OF ART»

ROMAN MIRACLE-WORKING ICONS OF THE MOTHER OF GOD IN THE ICONIC ART OF UKRAINE

LUMINOUS PICTURES AS A FORM OF THE CONTEMPORARY VISUAL ART

INTRODUCTION TO THE AUDIOVISUAL ESSAY: FROM YOUTUBE TO ACADEMIA

FOLK AND HISTORICAL TYPES OF SAINTS' IMAGES IN THE UKRAINIAN BAROQUE ICONOGRAPHY OF THE XVII–XVIII CENTURIES
Author Biographies
Tetiana Baklanova,
Kherson State Agrarian University, Ukraine
Candidate of Agricultural Sciences, Associate Professor, Associate Professor of the Department of Mechanization and Life Safety
Valentina Gamayunova,
Mykolaiv National Agrarian University, Ukraine
Doctor of Agricultural Sciences, Professor, Head of the Department of Agriculture, Geodesy and Land Management
Marina Burgaz,
Odessa State Environmental University, Ukraine
Candidate of Biological Sciences, Associate Professor of Aquatic Bioresources and Aquaculture Department
Olga Soborova,
Odessa State Environmental University, Ukraine
Candidate of Geographical Sciences, Assistant of Aquatic Bioresources and Aquaculture Department
Kateryna Garbazhii,
Odessa National Academy of Food Technologies, Ukraine
Candidate of Agricultural Sciences, Associate Professor, Assistant Professor of Department of Commodity Research and Customs MATTERS, Deputy Dean of the Faculty of Food Technology and Food Science
Mykola Kovalov,
Central Ukrainian National Technical University, Ukraine
PhD of Agriculture, Senior Lecturer at the Department of Geoponics
Vita Reznichenko,
Central Ukrainian National Technical University, Ukraine
PhD of Agriculture, Associate Professor at the Department of Geoponics
Maksym Kulyk,
Poltava State Agrarian Academy, Ukraine
Doctor of Agricultural Sciences, Associate Professor, Senior Research Assistant of the Research Department
Olha Dinets,
Poltava State Agrarian Academy, Ukraine
Assistant of the Department of Selection, Seed Science and Genetics
Ilona Rozhko,
Poltava State Agrarian Academy, Ukraine
Postgraduate of the Department of Selection, Seed Science and Genetics
Roman Mylostyvyi,
Dnipro State Agrarian and Economic University, Ukraine
Candidate of Veterinary Sciences, Associate Professor, Department of Livestock Processing Technology
Olena Izhboldina,
Dnipro State Agrarian and Economic University, Ukraine
Candidate of Agricultural Sciences, Associate Professor, Department of Livestock Production Technology
Mykola Mostipan,
Central Ukrainian National Technical University, Ukraine
PhD of Biology, Professor, Head of the Department of Geoponics
Valeriy Mytsenko,
Central Ukrainian National Technical University, Ukraine
PhD of Pedagogy, Associate Professor, Head of Foreign Languages Department
Hennadii Pinkovsky,
National University of Life and Environmental Sciences of Ukraine, Ukraine
Semen Tanchyk,
National University of Life and Environmental Sciences of Ukraine, Ukraine
Doctor of Agricultural Sciences, Professor of the Department of Agriculture and Herbology
Serhii Smyslov,
Institute of Pig Breeding and Agroindustrial Production of the National Academy of Аgrarian Sciences of Ukraine, Ukraine
Candidate of Agricultural Sciences, Deputy Director for Science
Mykhailo Sokyrko,
Institute of Pig Breeding and Agroindustrial Production of the National Academy of Аgrarian Sciences of Ukraine, Ukraine
Candidate Of Agricultural Ciences, Chief of Laboratory of Livestock Objects
Pavlо Shekk,
Odessa State Ecological University, Ukraine
Doctor of Agricultural Sciences, Professor, Head of the Department of Aquatic Bioresources and Aquaculture
Maryna Burhaz,
Odessa State Ecological University, Ukraine
Candidate of Biological Sciences, Associate Professor at the Department of Aquatic Bioresources and Aquaculture
Valentina Shcherbina,
Tavria Dmytro Motornyi State Agrotechnological University, Ukraine
Candidate of Biological Sciences, Associate Professor at Department of Geoecology and Land Management
Maxim Ganchuk,
Tavria Dmytro Motornyi State Agrotechnological University, Ukraine
Assistant at Department of Geoecology and Land Management
Vitalii Martyniuk,
Rivne State University of Humanities, Ukraine
Candidate of Geographical Sciences, Associate Professor, Professor at the Department of Ecology, Geography and Tourism
Ivan Zubkovych,
Rivne State University of Humanities, Ukraine
Postgraduate at the Department of Ecology, Geography and Tourism
Yuliia Nizhynska,
Taras Shenchenko National University of Kiev, Ukraine
Liudmyla Datsenko,
Taras Shenchenko National University of Kiev, Ukraine
Doctor of Science in Geography (Geographical Cartography), Professor (Geodesy and Cartography)
Iryna Shakhman,
Kherson State Agrarian University, Ukraine
Candidate of Geographical Sciences, Associate Professor, Associate Professor of the Department of Ecology and Sustainable Development,
Anastasiia Bystriantseva,
Kherson State University, Ukraine
Candidate of Physical and Mathematical Sciences, Associate Professor, Associate Professor of the Department of Algebra, Geometry and Mathematical Analysis
Oleksiy Davydov,
Kherson State University, Ukraine
Candidate of Geographic Sciences, Associate Professor, Head of the Department of Ecology and Geography
Mariya Zinchenko,
Kherson State University, Ukraine
Lecturer at the Department of Ecology and Geography
Mykhailo Matrofailo,
Institute of Geology and Geochemistry of Combustible Minerals of the National Academy of Sciences of Ukraine, Ukraine
Candidate of Geology and Mineralogy, Senior Research Fellow, Senior Scientific Worker of the Department of Geology and Geochemistry of Solid Combustible Minerals
Mykola Korol,
State Enterprise "Lvivvuhillya", Ukraine
Chief geologist, Separated Subdivision "Geological Research Expedition"
Olga Mizina,
Poltava National Technical Yuri Kondratyuk University, Ukraine
Candidate of Philological Sciences, Associate Professor at Department of Ukrainian Studies, Culture and Documentation
Ludmylа Dеrеvyаnko,
Poltava National Technical Yuri Kondratyuk University, Ukraine
Candidate of Philological Sciences, Associate Professor at Department of Ukrainian Studies, Culture and Documentation
Yuliia Pozdran,
Vinnytsia National Technical University, Ukraine
Candidate of Philology, Senior Lecturer, Department of Linguistics
Iryna Zozulya,
Vinnytsia National Technical University, Ukraine
Candidate of Pedagogical Sciences, Associate Professor, Department of Linguistics
Olha Yatchuk,
University of Customs and Finance, Ukraine
PhD in Social Communication, Associate Professor of the Department of Journalism, Philosophy and Social Communications
Natalia Kodatska,
University of Customs and Finance, Ukraine
PhD in Sociology, Associate Professor of the Department of International Economic Relations, Regional Studies and Tourism
Andrii Demianchuk,
Ivan Franko National University of Lviv, Ukraine
Ph.D. in History of Arts, Associate Professor of the Department of Stage Direction and Choreography
Lidiya Koval,
Kyiv National University of Construction and Architecture, Ukraine
PhD in Art History, Associate Professor, Doctorate in the Department of Architectural Structures
Yevhen Vorozheikin,
National Pedagogical Drahomanov University, Ukraine
PhD in Philosophy, Associate Professor at the Department of Cultural Studies and Philosophical Anthropology, Faculty of Philosophy and Social Sciences
Serhii Rusakov,
National Pedagogical Drahomanov University, Ukraine
PhD in Philosophy, Associate Professor at the Department of Cultural Studies and Philosophical Anthropology, Faculty of Philosophy and Social Sciences
Oleksandr Tsugorka,
National Academy of Fine Arts and Architecture, Ukraine
PhD in Art History, Professor, Merited Figure of Arts of Ukraine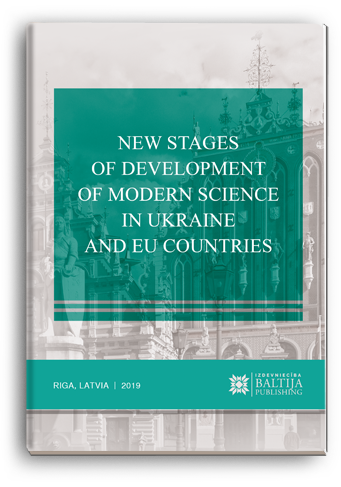 Published
November 29, 2019