PRIORITY DEVELOPMENT FIELDS OF THE EUROPEAN RESEARCH AREA: International Scientific Conference
Conference proceedings are devoted to the priority development fields of the European research area. General issues of the engineering, philological, pedagogical, legal, economic sciences, history of art, agriculture and so on are considered. The publication is designed for scientists, lecturers, postgraduate students, students, as well as for the general readers.

International Scientific Conference Priority Development Fields of the European Research Area: Conference Proceedings, 25th September, 2020. Riga, Latvia: Baltija Publishing. 92 pages.
Chapters
CULTURAL STUDIES

MODERN DIRECTIONS OF RESEARCHING UKRAINIAN DIASPORA'S ART

HISTORY OF ART

CONTEMPORARY MONUMENTAL AND DECORATIVE ART OF KYIV HOTELS WITHIN THE STUDY OF LIGHTING ELEMENTS

PEDAGOGICAL SCIENCES

ALGORITHM FOR DESIGNING TECHNOLOGY FOR FORMING AN ACTIVE PROFESSIONAL POSITION OF FUTURE SERVICE PROFESSIONALS IN THE PROCESS OF PROFESSIONAL TRAINING

FORMATION OF STUDENTS` ACMEOLOGICAL COMPETENCE THROUGH SELF-EDUCATION

PECULIARITIES OF TEXT SELECTION FOR HIGH SCHOOL STUDENTS

TO THE ISSUE OF THE PECULIARITIES OF LEARNING FOREIGN LANGUAGES IN THE SYSTEM OF PROFESSIONAL EDUCATION BY LAW ENFORCEMENT OFFICERS AND SERVICEMEN

ASSESSMENT OF FORMATION OF STUDENTS' SOFT SKILLS IN HIGHER EDUCATION

PHILOLOGICAL SCIENCES

THE ROLE OF USING FEMINITIVES IN OVERCOMING GENDER ASYMMETRY

TO THE ISSUE OF TRАNSLATION SOME ENGLISH MILITАRY TERMS IN NATIONALITY CONTEXT

HISTORICAL SCIENCES

THE FOREIGN POLICY DOCTRINE OF HARRY TRUMAN IN 1947 AS AN EXAMPLE OF INTERSTATE ECONOMIC DIPLOMACY

LAW SCIENCES

PURPOSE OF FORENSIC EXAMINATION IN CIVIL AND ECONOMIC PROCEEDINGS: PROBLEMS OF THEORY AND PRACTICE

SOCIAL RIGHTS IN PRACTICE OF THE EUROPEAN COURT OF HUMAN RIGHTS

REPUBLICAN FORM OF GOVERNMENT: FEATURES OF ITS MIXED FORM IN UKRAINE

THE QUESTIONS OF ASSESSMENT OF THE COST OF SERVICES AT CARRYING OUT COMMODITY EXAMINATIONS

APPROACHES TO THE DEFINITION OF THE CONCEPT «AGRICULTURAL COOPERATION», ITS ESSENCE AND SIGNS

ECONOMIC SCIENCES

DEVELOPMENT OF EDUCATIONAL POTENTIAL IN THE CONTEXT OF REGULATION OF BEHAVIORAL MODELS OF LABOR MARKET ACTORS IN THE NEW ECONOMY

AGRICULTURAL SCIENCES

CONDITION OF RECREATIONAL AND HEALTH-IMPROVING FORESTS IN LEFT-BANK UKRAINE

ENGINEERING SCIENCES

COMPUTER FORECASTING OF EARTHQUAKES BASED ON THE STUDY OF CHANGES IN THE WATER LEVEL IN THE CONTROL WELLE

ECOLOGICAL CONSEQUENCES OF UNDERGROUND MINING THIN COAL SEAMS IN THE WESTERN DONBASS

PREREQUISITES FOR CREATION MINING AND CHEMICAL ENTERPRISE
Author Biographies
Lesia Turchak
Kyiv National University of Culture and Arts, Ukraine
Olena Smolyar
National University of Culture and Arts, Ukraine
Оlena Ivanova
Commercial college of Dniprovsk State Technical University, Ukraine
Alexander Koba
Kyiv Faculty of the National Academy of the National Guard of Ukraine, Ukraine
Maria Koba
Kyiv Faculty of the National Academy of the National Guard of Ukraine, Ukraine
Serhii Nikonenko
Kryvyi Rih State Pedagogical University, Ukraine
Tetiana Serhiienko
Hetman Petro Sahaidachnyi National Army Academy, Ukraine
Yulia Samoilova
Sumy branch of Kharkiv National University of Internal Affairs, Ukraine
Hanna Sereda
Vasyl' Stus Donetsk National University, Ukraine
Yana Pavlishcheva
Yaroslav Mudryi National Law University, Ukraine
Roman Serhiienko
Hetman Petro Sahaidachnyi National Army Academy, Ukraine
Yulia Denysyuk
Hetman Petro Sahaidachnyi National Army Academy, Ukraine
Tetiana Anistratenko
Institute of Continuing Education Taras Shevchenko National University of Kyiv, Ukraine
Volodymyr Vasyliev
Kharkiv Research Institute of Forensic Examinations of the Ministry of Justice of Ukraine, Ukraine
Kateryna Denysenko
Academy of the State Penitentiary Service, Ukraine
Vladislav Oliinyk
Academy the State Penitentiary Service, Ukraine
Inna Sabadash
Kharkiv Research Institute of Forensic Examinations of the Ministry of Justice of Ukraine, Ukraine
Oleksandra Khrishcheva
I. I. Mechnikov National University, Ukraine
Viktor Masin
I. I. Mechnikov National University, Ukraine
Nataliia Yakymova
Vasyl' Stus Donetsk National University, Ukraine
Mariia Krymova
Vasyl' Stus Donetsk National University, Ukraine
Sergiy Musienko
Ukrainian Research Institute of Forestry and Forest Melioration named after G. M. Vysotsky, Ukraine
Maksym Rumiantsev
Ukrainian Research Institute of Forestry and Forest Melioration named after G. M. Vysotsky, Ukraine
Volodymyr Nahornyi
Sumy State University, Ukraine
Mykhailo Petlovanyi
Dnipro University of Technology, Ukraine
Dmytro Malashkevych
Dnipro University of Technology, Ukraine
Pavlo Saik
Dnipro University of Technology, Ukraine
Vasyl Lozynskyi
Dnipro University of Technology, Ukraine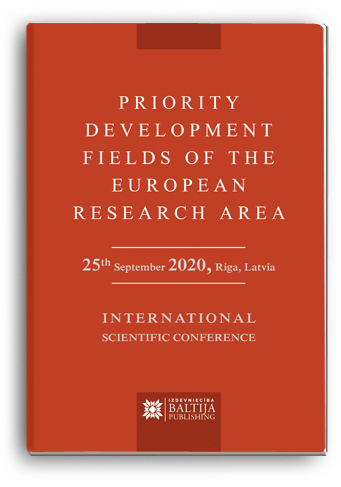 Published
October 22, 2020